Microsoft made a major boo boo when it released OFFICE UPDATE KB2412171 through Windows Update on December 14th, 2010.
The office update originally designed to fix some issues between Outlook and Exchange ended up BREAKING Outlook 2007 across the board!
Some of the issues it caused included:
Loss of the Archive and AutoArchive feature.
They are missing the option File-> Archive… and the AutoArchive section under Tools-> Options…-> tab Other as well as the AutoArchive tab in the Properties dialog of a folder.
Outlook is slow to respond when switching folders.
Accounts requiring Secure Password Authentication (SPA) may have issues to connect.
Exchange Accounts that have been configured to connect via Outlook Anywhere with NTLM authentication may be reset to Basic Authentication and now requests for the password.
IMAP accounts and accounts connecting via SSL may give send/receive errors. Gmail is for instance reporting error 0x800CCC78 and cannot send the message. Another common error is 0x800CCC1A.
I first experienced it when clients called in complaining of "extreme slowness" when working in Outlook 2007.  The first end user I checked had over 1400 unread messages in her mailbox so I immediately went to archive the messages to another .pst file thinking this was the main reason for her slowness.  However, when I went to manually archive I couldn't find the "ARCHIVE" command.  At first I thought I was loosing my mind, but after consulting office help and finding that the "AUTO ARCHIVE" command set was also completely missing I knew something was up.  This user wasn't on a domain, so no global policy could be effecting her, and I checked the customization settings to make sure she hadn't somehow deleted or removed the menu item…. so then it was off to Google where I ran into this article.
Bottom line is that the only way to fix the problem is to REMOVE the update.  So just follow the pics below for the quick and easy!
Navigate to your control panel and hit the add/remove programs and select "view installed updates".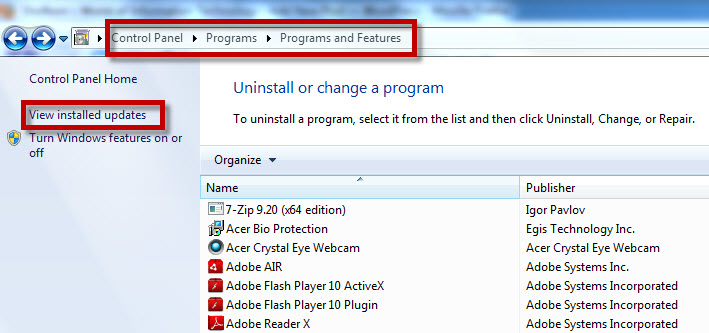 If you are running (GASP!) XP or earlier versions of Windows then yours would look something like this: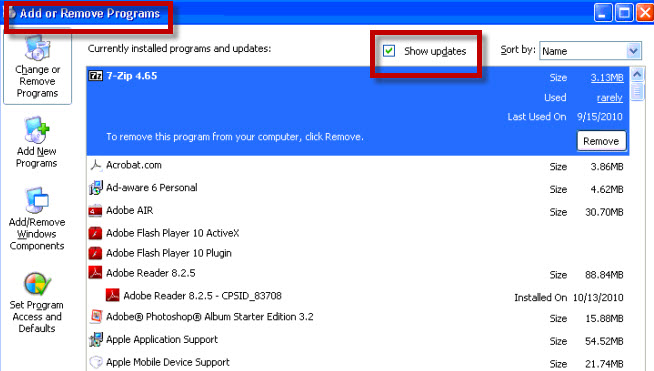 Then select the CORRECT KB2412171 UPDATE and uninstall!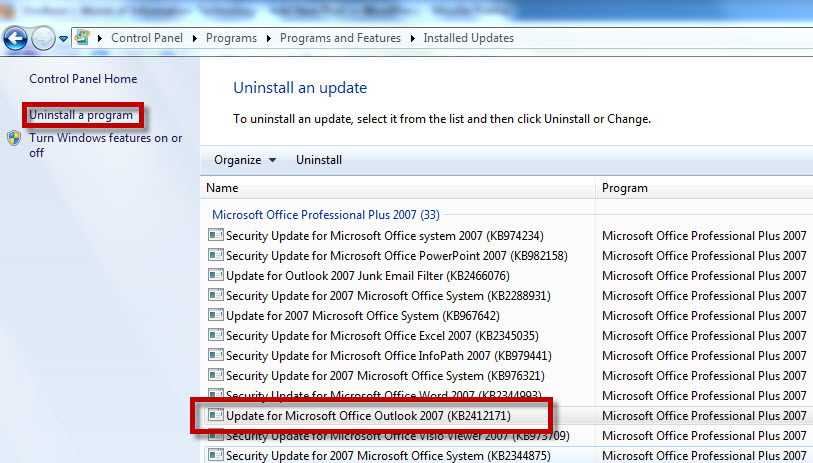 Additional Info can be found HERE, and HERE.
Note: The update has been pulled from Microsoft Update; there is no need to disable Microsoft Update anymore to prevent the update from being reapplied.